Did you know that your Internet Explorer is out of date?
To get the best possible experience using our website we recommend that you upgrade to a newer version or download another web browser.
A list of the most popular web browsers can be found below. Just click on the icons to get to the download page.
Your browser will need to close to complete the installation and you will need to manually reload the site when finished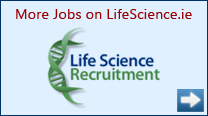 Sorry
There are no Open Vacancies that Match your Search
Other similar job titles you may be intertested in include:
Compliance Specialist
Regulatory Affairs Executive
Regulatory Affairs Officer
Please view a sample career profile in the box below
or
click here
to browse all open vacancies
Regulatory Affairs Specialist Career Profile
Regulatory Affairs Specialist
There are Regulatory Affairs (RA) opportunities available in a variety of industries: Pharmaceutical / Biotech / Agrochemical / Clinical Research Organisations (CRO's). There also exist roles in Consultancy organisations, companies which service small and large Clients in the above industries, on various projects. These can often be interesting and varied roles for the experienced RA professional.
Salary Scale:
Regulatory Affairs Assistant - €25,000 - €28,000
Regulatory Affairs Officer - €32,000 - €39,000
Regulatory Affairs Specialist - €40,000 - €55,000
Regulatory Affairs Manager - €60,000 - €80,000
Regulatory Affairs Director - €85,000 +
Role Responsibilities:
Life cycle management and Maintenance of regulatory filings including annual reports and supplements to US FDA.
Preparation of registration submissions, in CTD (Clinical Trial Dossier) format, for pharmaceutical products for approval by the US FDA, European Regulatory Authorities and worldwide, as required.
Monitoring the progress of registration submissions, responding to queries and ensuring that registration approvals are granted without undue delays.
Regulatory Compliance, for change control activities monitoring the impact of changes in regulatory submissions.
Monitoring adverse events for submissions, preparation and review and generation of supporting documents for potential field alerts and recalls.
Maintenance of approvals, including the preparation of annual reports for US products.
Assess and review documentation to ensure compliance with product licences.
Undertake general regulatory activities that interface with other departments such as Manufacturing, Product Development, Quality Control and Quality Assurance.
Actively participate in project teams, as required.
Industry Experience:
Minimum of 3 years regulatory experience in the pharmaceutical industry.
Knowledge of the current regulatory requirements, particularly US and EU.
Experience in writing and submitting regulatory documentation.